---
Sell Your House In Arlington TX
We Buy houses for Cash in Arlington, Texas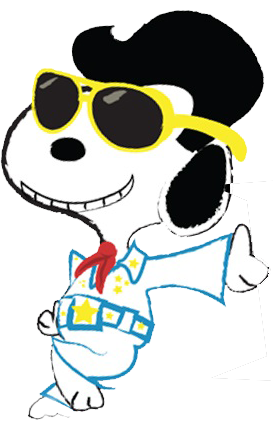 If you're thinking of hiring conventional real estate agents to sell your property, make sure that you've made arrangements for additional costs like realtor fees or commissions.
GET YOUR NO OBLIGATION CASH OFFER IN LESS THAN 24 HOURS.
GET YOUR NO OBLIGATION CASH OFFER IN LESS THAN 24 HOURS.
Trusted

Cash Home Buyers in Arlington since 2010
We Buy Houses IN Arlington TX
---
Do you not have the budget for payment of these additional costs? If only there were a solution. What if we tell you there is? Elvis Buys Houses is a family-owned real estate company based out of Grapevine, Texas. Buy houses in Arlington 100% CASH, and we DO NOT CHARGE any fees or commissions.
Taking an all-cash offer on your home will help you avoid the fees related to lenders & mortgages. Such offers don't require mortgages as the buyer doesn't borrow any money. This helps save money and time since you don't need to wait on documentation to follow through or fees to be confirmed.
Fill Out This Quick & Easy Form!
Interested in Learning More?
Just Follow Our Simple 3-Step Process Below to Get Started!
---
---
How to get started
Sell Your House Fast In DFW
---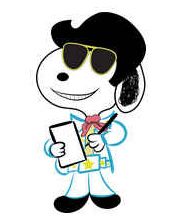 Step 1
Understand how the process works and learn how we come up with our offer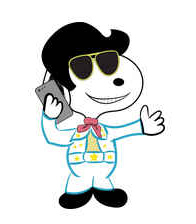 Step 2
We know you likely want to know more about who you might be working with. See what some our happy home sellers have had to say about us!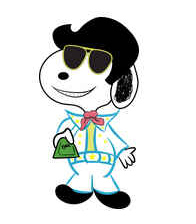 Step 3
We will reach out within 24 hours to learn more about your house or rental property. Fill out your information and let us take it from there!
Google

4.9 Star Rating
"If you are looking to sell your house as-is, please do yourself a favor and reach out to Steve at Elvis Buys Houses. I promise you will not regret your decision."
Morgan B. ⭐⭐⭐⭐⭐
WE WANT TO BUY YOUR Arlington HOME
---
Have you tried to sell your Arlington home, but you've hit some roadblocks along the way? If you've found yourself in this situation, then you've probably turned to a real estate agent. But, this isn't always the best option when you want to save money and you need to get out of your home fast. That's where we step in. We buy house in Arlington, TX with cash, which means we are able to close quickly and on your schedule. When you work with Elvis Buys Houses, there's no more waiting around for months for your house to sell or for the bank to approve your loan.
Do you want to know the best part about working with us? There are no hidden fees, closing costs, or appraisals involved. This is why hundreds of happy clients have chosen to work with us. We make the home selling process pain-free!
| | Traditional Real Estate | |
| --- | --- | --- |
| No Fees or Commissions | | |
| Flexible Closing Date | | |
| No Repairs Needed | | |
| Sell Your House As-Is | | |
| No Closing Costs | | |
| Sell Your House Fast | | |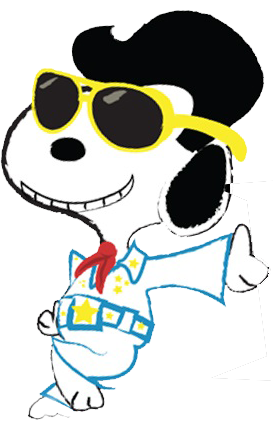 We buy addison houses
Any condition, Reason or challenge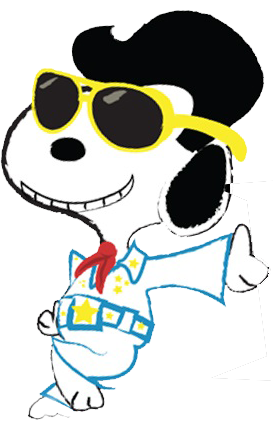 Any Reason
Upgrading
Major Repairs Needed
Health Issues
Any Condition
Old, Outdated Houses
New Houses
Storm Damage
Fire Damage
Termite Damage
Full of Stuff or Trash
Major Repairs Needed
Problem Tenants
Unfinished Construction
Any Challenge
Financial Issues
Title Issues
Code Violations
Hoarder Home
Low Equity
Large Liens
Out of area property
Family Matters
Late on Mortgage Payment
---
The Deal is Closed Sooner
Traditionally, there are many contingencies for both the seller and the buyer in the house selling process. There are practically no contingencies in an all-cash offer. That is why they are quicker and involve fewer hoops to jump through.
No Appraisal
Appraisals typically take place when a lender is involved. But this is not the case with cash offers. As the home buyer has liquid cash for the purchase, they do not need to get a mortgage loan approved. So, there is no requirement for an appraisal to determine the property's value to reassure a mortgage lender.
Straightforward Closing
In a cash offer, the closing process is straightforward. That is because there is significantly less paperwork. The time-saving process involves signing the settlement statement, deed, title, handing over the cash, and receiving the keys. Also, there are lesser closing costs as no lender fees are attached.
Less Stressful
As no waiting is required for the underwriting process to get over—that can take weeks—the entire process is less stressful. So, choosing cash home buyers in Arlington, Texas can be a stress-free option for you.
Less Risk
Generally, home sellers opt for a cash offer over an offer that will be financed through a mortgage, even if the cash offer is lower. Because no financing is involved, there is less risk of the deal falling through.
As a result, the deal closes faster & the seller is paid sooner.
But there are many more benefits that you'll get once you count on us:
We Solve Your Tough House Problems, Soon
Whether you are behind on your payments, have inherited a house, are avoiding foreclosure, need to relocate soon, want to get rid of your status of being a landlord, or own a vacant house and no longer want to own it for any reason whatsoever, we've got your back. Cash Home Buyers in Arlington Texas using a streamlined process for your comfort.
We Have Streamlined The Process For Selling Houses
First, you accept our offer and complete a Purchase and Sale Agreement contract. Then you request & confirm proof of funds in the form of bank or investment statements. This is done for your satisfaction so that you can ensure that we actually have the cash to close the deal.
Thirdly, the title services are hired to ensure that the property lines are correctly drawn & no property liens need to be addressed. Such a company also issues title insurance and ensures that the actual property ownership changes hands on the closing day.
Besides, escrow services are hired to manage all closing documents, facilitate the transfer of funds, & complete the legal paperwork that records the sale. A cash sale with us closes in at the most, two weeks (sometimes, the time is even as little as 5 days!). This is enough time for the escrow & title companies to clear any liens, provide insurance, & get the paperwork ready. Lastly, after both parties review everything, the closing documents are signed.
Have The Resources To Get Things Done, Fast
With us, you don't need to wait for months or even weeks for the closing to happen. We have years of experience & adequate resources to close the deal in as fast as 48 hours. Our team helps you sell your home fast & get on with life.
Besides, if something crops us that requires us to close the deal at a later time or stage, we take that into consideration. For us, your convenience is the topmost priority, & we do all it takes to make the deal happen. So, if your house is one of the homes for sale in Arlington, TX, reach out to us and we'll be right at your disposal. We, as cash home buyers in Arlington, Texas aim to make the entire process of selling your house smoother and hassle-free.
No Repairs or Cleaning is Necessary
With us, you make an as-is Sell My House Fast in Arlington the way they are, currently. Hence, you do not have to make any repairs or do any cleaning before selling your house to us! Hence, be free from the stress of remodeling your home or working on its curb appeal to make the deal happen.
Further, you don't need to keep your house spotless or deal with strangers trampling through your property. With us, there is no such ritual of an inspector & an appraiser picking apart your property & finding that more repairs are needed to be done before the sale takes place. Once we arrive at an offer that both of us have agreed upon, consider the deal to be sealed.
We Make An Offer You Can't Refuse
There are closing and many other costs associated with finalizing the deal. We take this and much more into account before quoting a price on your property. If you don't have the budget for incurring these costs, do not worry. We will structure a customized offer for you, keeping your budget in mind.
We Make You A Fair Cash Offer
Our quote will be less than the retail price. But here's the catch: there are more than normal chances of you netting close to the same amount as the retail price. First thing's first. In practice, a retail price isn't what you actually put in your pocket. And if you do want to get the full retail value, you'll need to hire an agent. And they have huge commissions.
Secondly, most retail buyers ask the sellers to pay for around three percent of their loan costs. In such an agreement, you may need to get several repairs done so that your home is "market-ready." This will take a lot of time so that you eventually reach the appraisal stage.
Worse still, even after spending thousands of dollars on these repairs, there will still not be any guarantee that your sale will go through. So, why not save all that time and effort, and have our team buy your home as it sits while possibly netting the same amount of money?
Guaranteed Sale
Traditionally, agents list your property & charge commissions for selling it. On top of that, they can't guarantee if your house will sell, when it will sell, or specify how much it will sell for. Partner with us and be assured of getting clear answers to all these questions.
We Believe in All Things Legal
Everything that we do is documented & goes through a lawyer's office before the transaction is closed. Once the closing is done, we make it a point that cash and keys are exchanged between our lawyer & yours. Yes, it is that simple! We make selling a house without involving a 'conventional' real estate agent possible!
We give you a fair quote & on request, even tell you how we reached our offer price. We engage in a high volume of house buying.
We Reach Out To You As Soon As Possible
All you have to do is fill out the form or give us a call at your convenience. We'll reach out to you within at the most, two days… hail, sleet, or snow! Once we get to know all the relevant information, leave it upon us to take it from there.
We Help You Save Money
When you think of "How to sell my house in Arlington, TX?" you generally have to involve a real estate agent & pay them some percentage of the home's purchase price. Since you sell to us directly without involving any mediator, you don't have to spend an additional chunk of your money. This is one of the biggest reasons why people choose to sell their homes to us
Do check out our clients' reviews on the website to get a peek into how easy we make the whole process for you! Name your price & market (or not) your way, however you may like. The reins are in your hands. Do not hesitate to talk to us if you have any concerns or doubts. We'll clarify all of them.
Once you put your trust in us, we do not take it lightly. All the terms are clearly specified in the relevant documents for you to see. Our vision is to make the entire house selling process a hassle-free experience for you!
People Love Working With Us!
---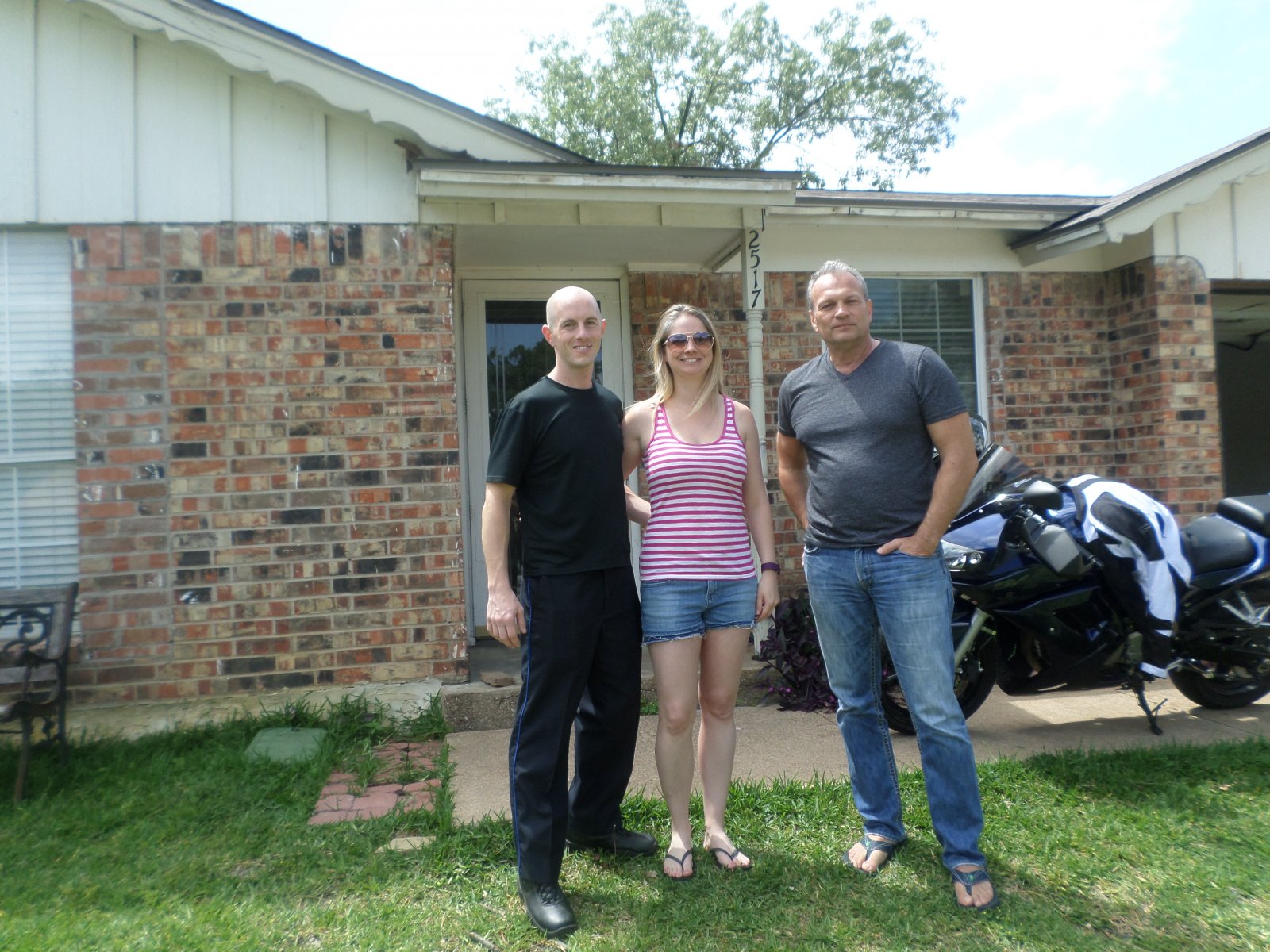 "Your input and guidance through every step of the way were helpful. Thanks for being there and answering all of our questions. It was a great experience working with you!" Chad H.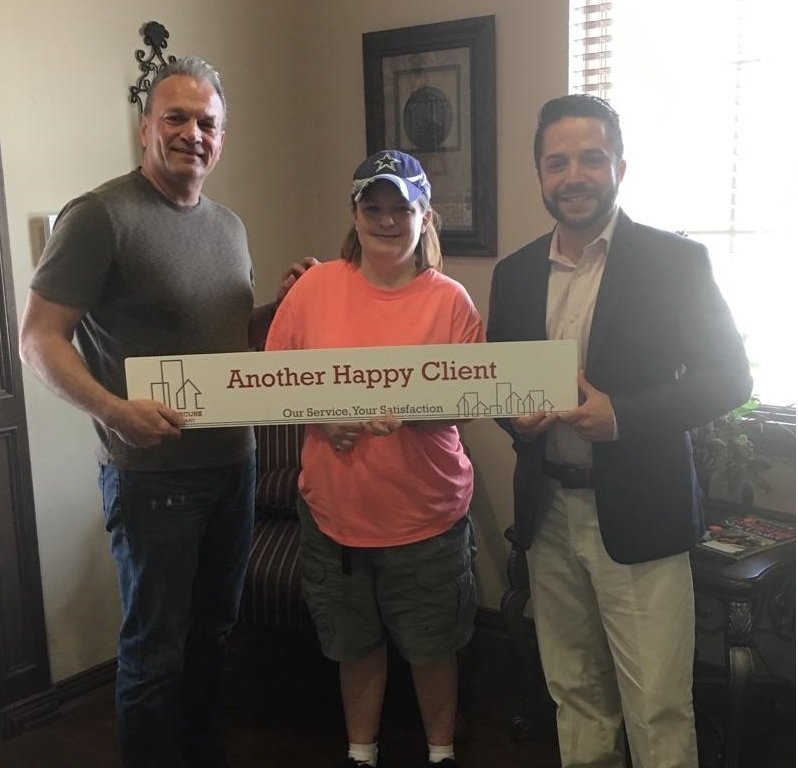 "Steve not only helped, but he was also very compassionate and didn't bat an eye at some of the obstacles that came up. He offered a price that was acceptable to me and was very fair and efficient!" Stacey D.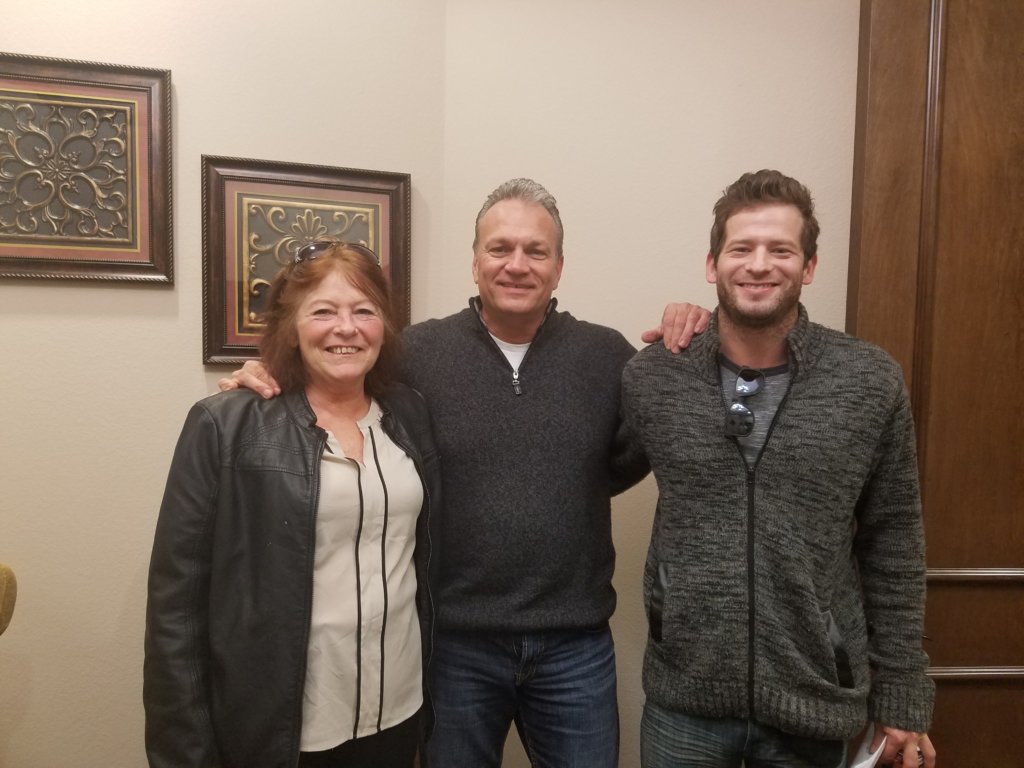 "I want to thank Elvis Buys Houses for purchasing my North Richland Hills, Texas house. The all-cash quick closing really helped me get my house sold ASAP which allowed me to move forward with the purchase of my new home in Wisconsin." Veronica De Los Santos & her son Nick.
Enter Your Arlington Address to
Testimonials from those we've helped
"Steve, thanks for everything! Selling my 94-year-old mother's house was something I dreaded. Doing business with you certainly made it about as easy as something like that can be. You showed up on time, were very thorough, and basically at every step did what you said you would do, no surprises. Thanks!"
Larry D. Messer, MD
"I have to say that selling my Woodbine Drive, Fort Worth rental property to Elvis Buys Houses went better than I could have ever imagined. They responded fast, showed up on time, explained the process and followed through with an all-cash closing at Texas Title in Colleyville. The property was sold "As-Is" and we closed in 10 days! They even paid extra for the refrigerator, washer, and dryer that I no longer needed. I'd recommend Elvis Buys Houses to anyone that prefers a cash transaction and/or needs to sell their house quickly! Thank you Elvis Buys Houses!"
April Green | Fort Worth, TX.
"I was really pleased with how Steve from Elvis Buys Houses worked with me throughout the successful sale of my South Henderson Street house in Fort Worth. The house was in the family for many years and it was hard for me to sell it but Steve helped me understand the selling process, the paperwork and kept me informed at all times. The process was not difficult at all! Thank you, Steve."
Miguel | Fort Worth, TX.
Call Now to Get Your Free Cash Offer!